Area Information
Centerville is the county seat of Leon County, and is located in the eastern part of Central Texas. The city of Centerville is located halfway between Houston and Dallas, at the intersection of Interstate Highway 45 and State Highway 7. Leon County is generally rolling, hilly terrain, with an abundance of mixed Hardwoods, with some Pine timber. There are numerous creeks and springs which flow into the Trinity River on the eastern boundary, and the Navasota River on the western boundary of the County.
The soil types range from sandy loams to bottomland dark alluvium soils, which provides excellent ranching, farming and gardening. In 1994, Leon County was 2nd in the state in the number of beef cattle that calved, and 3rd in the State in Hay production. And this was with non-irrigated fields.
Leon County is well known for its excellent deer hunting. Leon County is also known for its fishing at the Lock & Dam and Big Eddy on the Trinity River. Located in the northwest section of the county is Lake Limestone, which is approximately 14,000 surface acres and is approximately 16 miles long. Lake Limestone offers excellent fishing, boating and recreational facilities.
The elevation of Leon County ranges from 150 feet above sea level to approximately 500 feet above sea level. The county enjoys an average annual rainfall of 39.48 inches, and a growing season of 270 days out of the year. The minimum average temperature during the month of January is 38 degrees and a maximum average July temperature is 95 degrees.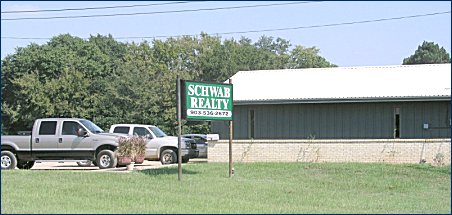 Company History
Family owned and Operated since 1981, Schwab Realty is active in all types of real estate, but specializes in ranches and recreational properties. With numerous properties available, we are confident we have just the right place for you. If you are interested in selling, our Multiple Listing Service participation and Internet presence will provide you with maximum exposure to the largest client base.
Schwab Realty offers realty services in these Texas Counties . . .
Leon, Madison, Houston, Freestone, Robertson, Anderson, and Walker
and these Texas cities ...
Centerville, Buffalo, Crockett, Fairfield, Teage, Mexia, Madisonville, Flynn, Jewett, Leona, Marquez, Normangee, and more!